Here's the secret to working out like a professional athlete...


Increase your intensity and unleash your true athletic potential.


As a professional skater and coach, I've experienced how difficult it is to find a workout program that keeps my attention and truly challenges my athletic abilities. There's plenty of high-intensity workouts out there, but not many that combine skating and fitness into one workout.


With this training program you can improve your balance and coordination, get mentally and physically stronger while challenging your inner athlete and optimize the benefits of a cross-training program in less than 30 minutes a day.
Are you a figure skater, hockey player or roller skater looking for different ways to stay fit while utilizing your technical skating skills?
Are you a coach running out of ideas for your skaters' fitness trainings and want some pre-planned workouts to give them?


Are you easily bored and not getting enough variety with your current workouts?
Look no further, XSkate Fit is here! Start training like a pro today.
Brooke
"One word. AMAZING! I grew up figure skating and have loved getting those muscles engaged again. These workouts are challenging and fun at the same time, which makes it a perfect activity any time of day. Even if you've never been on the ice, getting Skater Fit is such a great feeling! So grab a pair of blades and get out there, you won't regret it."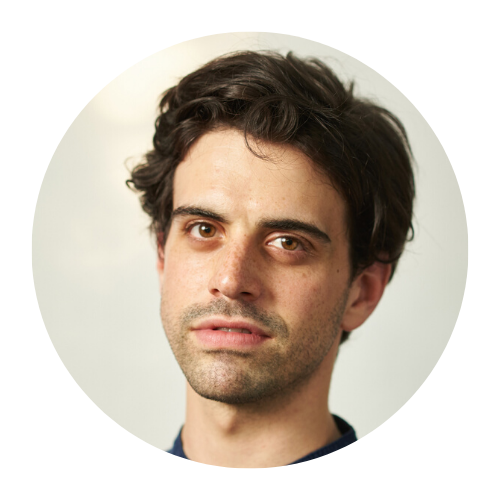 Isaac
"XSkate Fit is an optimally designed and technically sound training program. As a professional figure skater and contemporary dancer, I look for workouts that cross disciplines as much as possible, and XSkate Fit does exactly that. Shannon has tailored the program to target multiple muscle groups, challenge your cardio, and keep you engaged and focused in each of the workouts -- it's the perfect all-around training program, especially as we're off the ice right now due to covid-19. It's been a welcome addition to my existing training regimen and has already offered me an exciting new way to skate. Can't wait for more XSkate Fit!"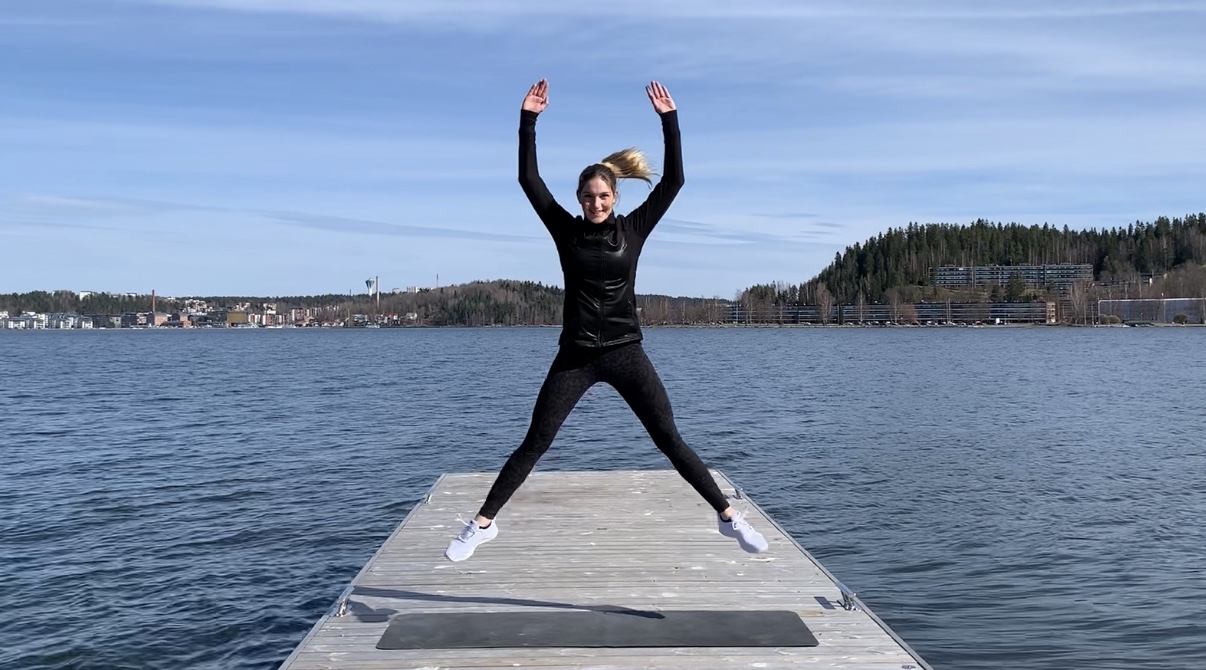 Off-ice Trainings
Each off-ice training will include a a dynamic warm-up, a muscle specific exercise, a high intensity circuit and core work.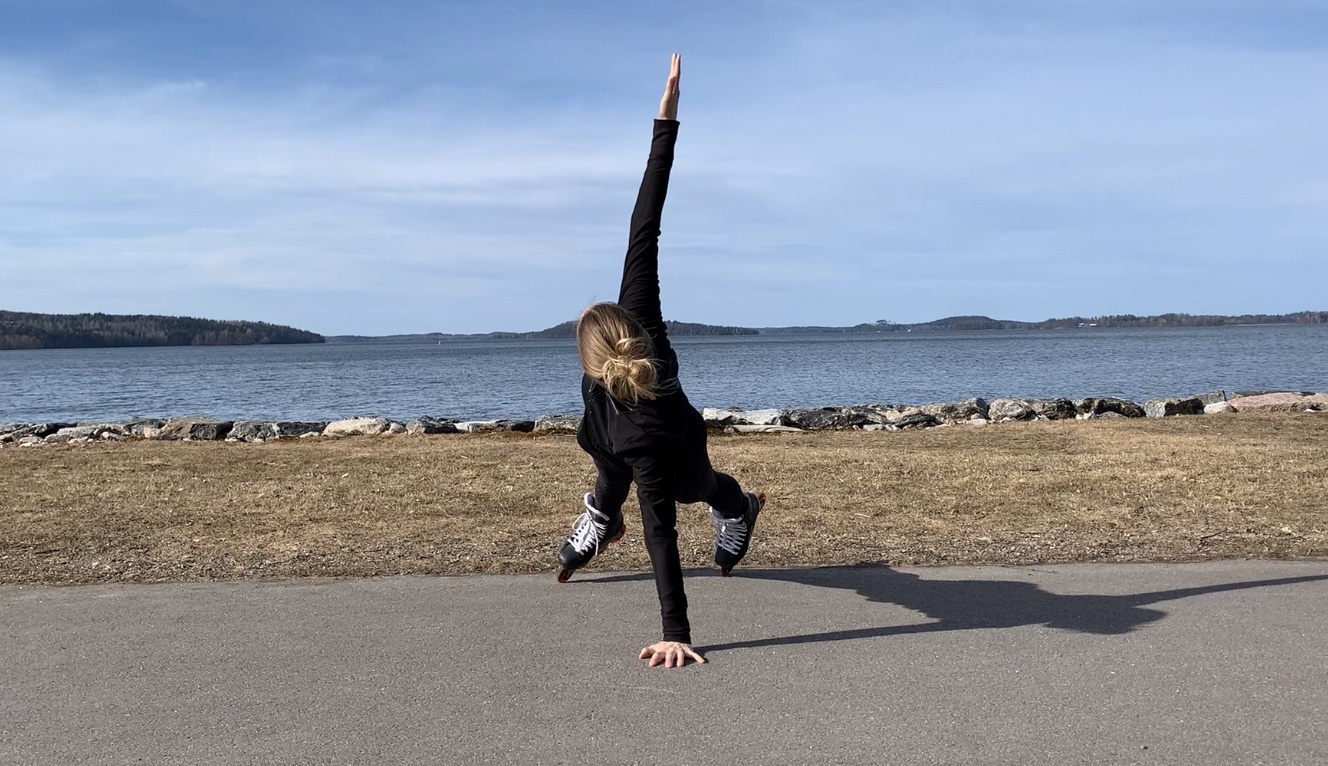 Roller Workouts
These high-intensity roller circuits cycle through various muscle groups and vary in style and intervals each day.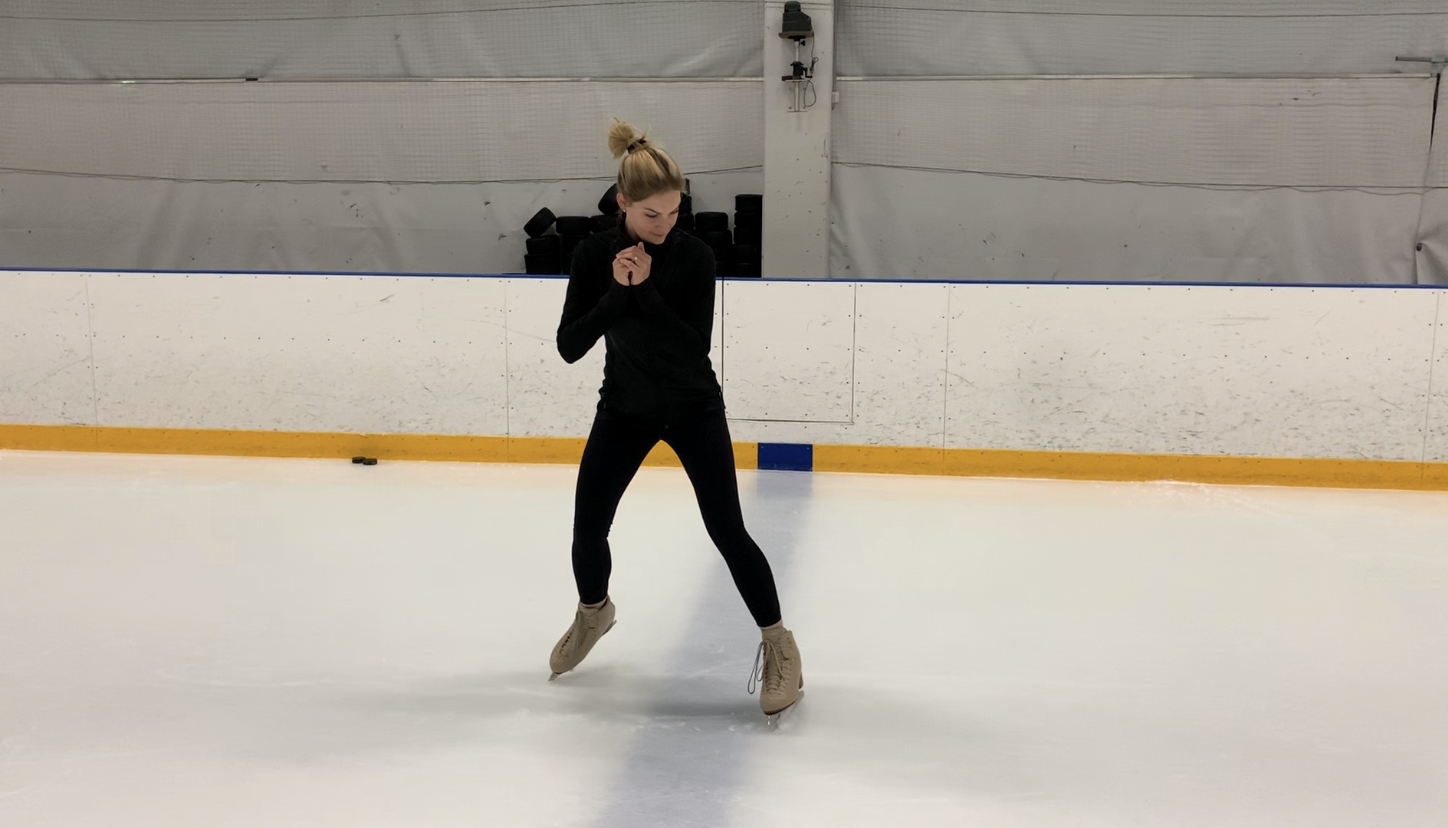 On-ice Workouts
These quick and effective exercises will make you sweat and unleash your inner athlete with different bodyweight and cardio circuits each day.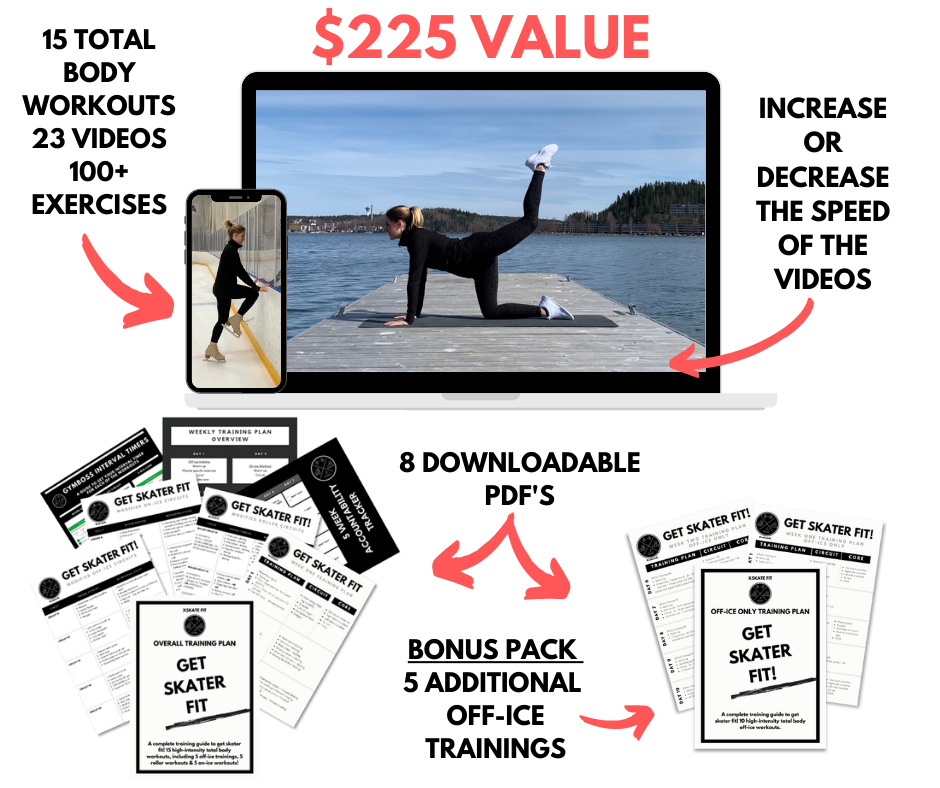 What You'll Get:
· 15 different total body workouts that can all be done in under 30 minutes
· 23

different video demonstrations
· 100+ different exercises
· 8 downloadable PDF's including: the overall training plan, weekly overview, accountability tracker, interval timer guide, modifications for off-ice trainings, roller workouts & on-ice workouts and the bonus pack.
· Pre-planned interval timers & video tutorial
· BONUS PACK: 10 off-ice trainings that parallel the roller workouts (in case you forgot your skates that day)
Get Skater Fit Curriculum
Join the community of past and present competitive and professional skaters, hockey pros, recreational skaters, coaches and fitness enthusiasts who have all united and joined in on the fun and effective workouts that XSkate Fit has to offer.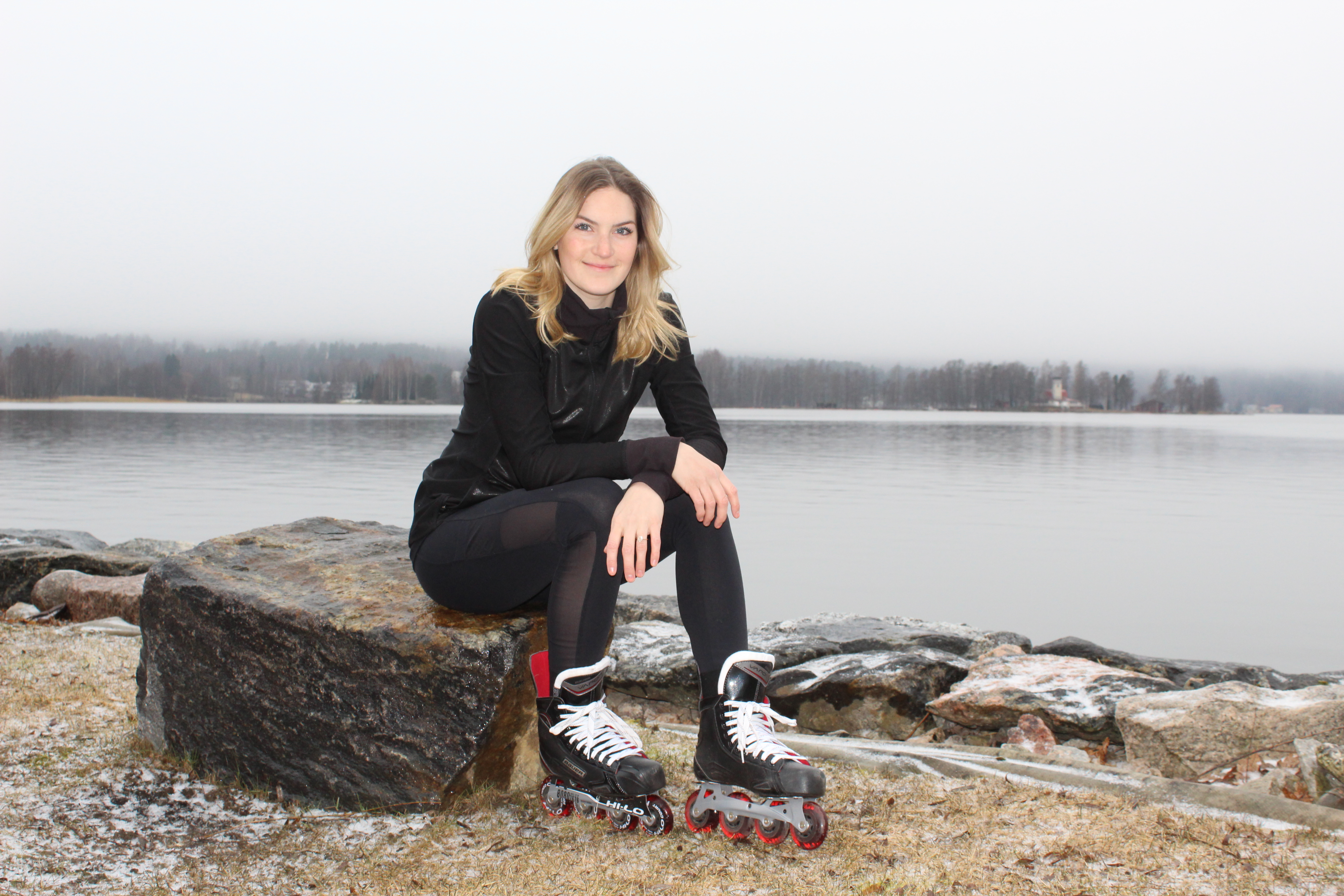 Hi, I'm Shannon and I'm the founder and trainer of XSkate Fit.
I am a gold medalist through the US Figure Skating Association, a senior rated group instructor through the Professional Skaters Association, an international professional show skater, a certified personal trainer and I have a BS degree in nutrition dietetics.
With over 10 years of experience coaching skaters of all ages and abilities, I know how essential fitness training regimens are for the sport. That's why I've created this course for you to get and to stay skater fit.
Frequently Asked Questions
I don't have roller skates yet, so can I still participate in your training program?
Yes! I have included a BONUS PACK with 5 additional workouts specifically for those of you who don't have roller skates yet.. that means 10 total off-ice trainings!
I'm a coach and not wanting to participate myself, but could I use this training program for my skaters?
Absolutely! I only ask that you use this program for your own personal use and in person trainings with your skaters. However, if you want your skaters to have access to this course and all its materials, then I do offer group discounts. If you want to share with your colleagues or friends, you'll need one license for each person who will use it. This is easily done by purchasing this course.
I'm a professional hockey player or figure skater, will this program be too easy for me?
That's up to you! I have designed this training program to be suitable for all fitness and skating abilities. Because the main workouts are interval based, you can make it as easy or as difficult as you want. Increase your repetitions during the intervals and it'll be a much more effective workout. Check out my testimonials to see what my pro skater student had to say! 😉
I'm just a beginner and don't have a lot of experience skating or working out, is this program still for me?
Yup! The modifications I have included under recreational skaters and recreational athletes are suitable for beginners for the off-ice trainings, roller workouts and on-ice workouts. Also, if you have any other questions or concerns and need additional modifications you can reach out to me directly and I would be happy to help!
What if this program isn't a good fit for me?
I'm giving you an entire month to try this program with a money-back guarantee because I believe so strongly in these workouts. You'll have 30 days from the date of purchase to get a full refund if you don't like it.
Can I buy this program as a gift?
Yes, of course! Just purchase the program with your personal details and you'll get an immediate email confirmation.
Reply to that email with the email address of the gift recipient and a personal note and I'll send them a personalized gift coupon for the program.
Does this course work on mobiles?
Yup! It works great on mobiles, you'll have access to the course across any and all devices that you own. Teachable even has an app (only for iOS at the moment) that keeps all your courses neatly organized and ready whenever you want!
Is this a monthly fee?
No. This is a one-time payment and you'll have lifetime access to this program as well as its future updates.
When does this program start and finish?
It is a completely self-paced online training program, meaning you can start whenever you'd like! You'll always have instant access to all the training materials.
What currency is the program fee in?
The program fee is in US dollars. It is super easy to buy at the checkout. You can use credit card or Paypal. These companies will make the currency exchange for you after the purchase.
How much are the taxes?
The checkout will automatically identify if and how much you need to pay in taxes.
Ok, so how do I get started?
Click the hot pink button below to get started today.